8 Reasons Why Indian and Chinese Economy is Doomed
You might have heard about rising China or rising economy of India and media freaking out about India and China are growing powers and stuff like that. The truth is that they won't even go close to US economy, which I know is running under debt, that's nothing new. US has been in the worse position before. Remember the great depression? When government brought the gold standard back and killed fiat currency and then brought it back during Vietnam war when they need more money to print?
Well, we're in the same era and economy is about to collapse, but here is what people assume: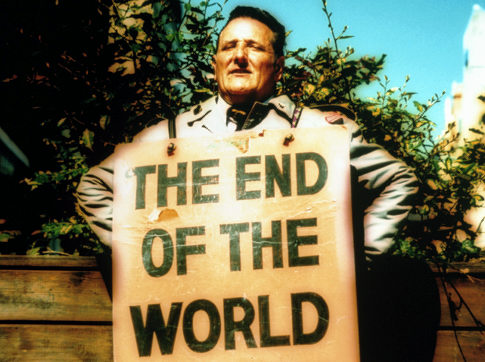 "Always Deny Apocalypse, because most of the time you'll be right, but when you're wrong, nobody will be left alive to hear that you told so" I dunno who said that…
The sad truth is that it is going to hurt American job market and dilute the cash's value you have. So go buy gold and invest in graphene or nuclear energy!
…and no I'm not an investment adviser, I'm like government, if I'm right – send me some love, if not – I dunno know you, who are you?
But things are going to be okay, not just okay but better. And chances are that some small countries like Norway, Luxumberg, Israel, Denmark, Switzerland may rise to give US some hard competition because they are positive in the factors below, unlike India and China.
We may hate our leaders but at least we can do something if they screw up, and we don't have to put them on crown for more than 10 years. So they're sort of temporary guys running the country. If you have someone like Saddam or Gaddhafi or Kim Jon iL or all the Kim Jon "the assholes," you're trapped into the leadership of assholes who will kill you to snatch their tax and spend it on their luxuries forever.
Winston Churchill said that democracy is the worst form of government, but it's far better than what's been tested before that. That's true.
"if we wouldn't have democracy, this person would still be in the office, spending another trillion on war"
7. 3d Printing Assembly Line
Listen, if you can watch this video, this hot chick explains how awesome it's gonna be.
[video type="youtube" clip_id="OhYvDS7q_V8" autohide="1" disablekb="false" fs="false" hd="true" rel="false" showinfo="false" showsearch="false"]
"Finally! I can pirate a Ferrari"
Here is the thing, in coming future we gonna have some revolution in the field of how we live. This revolution is gonna be in the field of energy, manufacturing, digital lifestyle and porn…
The rise of high quality 3d printers and coming improvements will eliminate your need of buying petty toys that are made in china. You can just print them for a fraction of cost. Just go on pirate bay or any legal site if you prefer to pay, download the model you wanna print and just sit back and enjoy the sweet printing voice.
The 3d printing assembly line can bring jobs back to US and also literally kill Chinese economy. Companies can setup large plants that can print stuff and robots that can assemble those parts. humans are their to to important stuff like watching Jersey Shore…
But seriously, it will increase some jobs in US which requires maintenance and operation of printing, Robo operation and testing.
So next time when your cup cracks up, just print another one. You don't need to buy another cup.
Don't believe me?
Just see this. This company called cubify sells awesome 3d printers that can print the pic below, and this printer costs only $1299! That's fucking insane!
Now I know it's in early stages, but if you can spend $40,000 then you can get the big giant awesome one that can do a lot of things. If you own a factory, I'm pretty sure you can spend to buy even a $200,000 one. hiring an employee will cost you $40,000, just imagine how much time it will save…
 "and unlike humans, it doesn't require extra benefits."
Here are some examples of what a decent 3d printer can print:
Now, tell me who can build this thing using hands? I mean human hands!
So all I can say is that 3d printing assembly line or system can destroy China's economy, which is based on manufacturing. it is also the future of piracy. Unless you're 60 year old, you're gonna see this thing in action in your own lifetime.
Now since the population of India and China is gigantic, and these two countries don't have a plan for energy, chances are that limitation of energy can act as a barrier for their people.
In this new upcoming world, to survive we need food, shelter, health care, connectivity, security and energy.
US has a good policy of international security which they got by spending a gazillion dollar on military. Health care is okay but not world class. Connectivity is also okay and energy policies are something to work on.
But since US owns most labs that are researching on graphene and alternative energy sources, chances are that we'll figure it out soon.
Here is the thing, in coming decades, oil's gonna go dry like an old man's mojo. 
So the countries who are ready to slowly make alternative sources as the default sources of energy and replace oil, that country will open a door of progress for its citizens, and since China and India cannot afford to do that, chances are they're gonna struggle or go on war with oil nations like us, or over use their nuclear thingy for power.
There are lots of research and concepts are going on, and USA is going to be the first one to come up with a plan because the DAARPA is working on it, some projects are going it MIT, NASA and some other fancy universities.
5. Education and Innovation
Do you know that China and India are producing more graduates than US.
Do you know that their average engineer may not know more than a typical mechanic.
In India, except IIT, most engineering students don't know more than a high school graduate of US. And not a smart one, but average. How do i know this thing? Well, I went to engineering coaching in India, the course is like what should be taught to 6th graders and people don't know rat's ass about technical thing. But the fact that degree or diploma or even academic education has to do with country's future or even his personal future is pretty much B.S. Here's an article with jargon language that clarifies this stuff. Here is another great article on it.
[divider_line]
Okay, this one is my favorite. Let me share a story with you.
When I was starting my career, I want to register a limited company in India, I went to file the application after reading a lot of stuff on the internet and business books, the registrar's assistant told me that without giving Rs. 25,000 (approx $500), the registration is not possible. Even if you give that much bribe, your registration won't be completed before 6 months. Now those were old days, I dunno how is the system today, but damn! Man are you crazy!
This isn't over, wait! I went to file income tax from the sales we had. The total revenue was around $59,000 (Rs. 2950000), that asshole was asking me to give its 2% to him in cash otherwise he won't count the petty expenses!
I figured out a way to move to US. I got my registration in 3 days, got all copyrights and stuff.
But whose loss is that? i'm pretty good, I don't have any problem in US, as a matter of fact, it is one of the best thing that I've ever done.
Now I'm in Us, pay regular taxes, provide employment to american citizens and contribute to its economy.
This is one way corruption is eating India. Fortunately, few days ago there was a man, around  77 -75 year old man who sat on huger strike for more than a fucking week! So things are going pretty nuts there and I hope India kills the corruption.
Same with China, the only thing is that India is a democracy ltd and China is fucking communist. Try protesting there…
**cough Liu Xiaobo cough**
So the bottom line is that US has corruption, but on the level which doesn't affects us directly. Unlike India, China, Pakistan, Indonesia, Kenya and other countries. Check out the corruption ranking, guess who's at the bottom? North Korea.
[divider_line]
Here in US, more than half of the economy is based on small business's activities. In US, people dream of making millions and starting a business. In countries like India and China, people dream of studying hard, getting good grades and get a decent job that pays well.
The culture of silicon valley is what makes it silicon valley, otherwise it's just a piece of land in west.
[blockquote align="center"]… You know why the Yankees always win?  *Cause they got Mickey Mantel?*  No. Its cause people cant stop staring at those damn pinstripes – From the movie (catch me if you can)[/blockquote]
Cultural impact on any country's economy is huge and if you take some time to think about it, you'll discover that the reason behind America's economic dominance is the "american dream" kinda culture. In new world, it is converted into a start up dream culture.
[divider_line]
Love it or hate it, it breeds opportunity and one of the main reason why I'm able to build my business from nothing to a successful start-up selling stuff that people want.
Capitalism has some drawbacks, but you can put blame on stupid patent systems and politicians. You know, if you cannot blame anything on corporatocrats then politicians are next in line.
This is the reason why there is so much opportunities in the united states. now you can argue that it makes rich richer and poor poorer, well, go and see North Korea, Pakistan, China and other countries with communism or socialism as a primary economic structure. The capitalist nations are standing firm and not to forget that it generates employment.
Not to forget, US is in war for like 15 years. When China and India go on war, their economy is gonna pay for it.
[divider_line]
I'm from India and I know very well how much freedom you get there. If you're a rebel, you will be treated similarly like you are treated in countries like China and Pakistan. You know something called anti-national law? Well, they can enforce you if you say anything against nation's interest or even in some cases, army. Now we know criticism is good, but you cannot criticize religions in India because if you do, it is considered as a hate speech or anything that can hurt sentiments of a specific groups. Most recently a guy name Sanal was charged for blasphemy for exposing the "miracles" of some religious groups.
So, What about other places?
Try writing this type of post in Iran, Iraq, Pakistan, China or any Arab nation etc. I rest my case…
And to the people who thinks US is evil:
War's one of those things, don't you think, where everyone always thinks they're in the right have you noticed that? Nobody ever says we're the bad guys, we're going to beat shit out of the good guys.
But how much dicks our leaders are, at least we can call them dicks publicly. That's a good thing anyway.